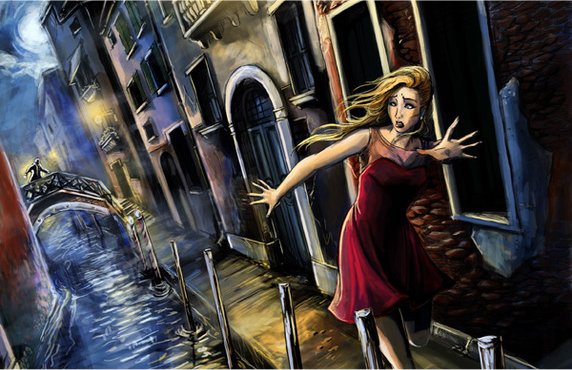 While adventure games have had some rough times over the years, I think we're starting to see somewhat of a revival, thanks to the iPad and the whole community funded approach. There have been quite a few gaming Kickstarter projects lately, but here's one which I find really interesting. Jane Jensen, veteran of the adventure game genre and creator of the very awesome Gabriel Knight series has started her own development studio and wants  help funding some new games that she is working on.
Hi, this is Jane. Cesar asked me to put together a few words for the Phoenix Online newsletter to let people know what I'm up to. This past year has been a tumultuous one for me – leaving my long-time job at Oberon/I-Play studio and trying to figure out what's next. I've decided to start my own studio, Pinkerton Road. You know, it's just high freaking time to put a stake in the ground and do exactly the kind of games I want to do, come what may. And as you may suppose, what I want to do is wonderful, beautiful, mysterious adventure games!

To that end, we have a Kickstarter campaign running now that will fund our first adventure game. What is the game about? Well you might ask! I have 3 games I want to do, hopefully in quick succession. And since part of the core idea of the studio is to involve our customers and fans more directly (in a model we call CSG – Community Supported Gaming), we decided to let you all vote on which of the three should be the first game we make.

The three games are Gray Matter 2 (in which David and Sam track Angela's roots to discover the secrets of her mysterious power), a game set in Regency England that we're calling "Anglophile Adventure" and a 3rd game – Moebius. Moebius is Cesar's favorite so I'll tell you a little more about it here.  In Moebius, Malachi Rector is an antiquities dealer who hunts down artifacts all over the world. After losing everything in a fire, he's hired by a Manhattan millionaire to investigate a series of events and document them in his meticulous way. But Rector soon realizes that the events hold a bizarre significance, as does his own existence. This is a metaphysical thriller a la Dante's Equation and Gabriel Knight. It will have a 2D, graphic novel look and feel (like an updated GK1). It will be a 3rd person adventure game with a point-and-click mechanic and lots of sophisticated puzzles.

– Jane Jensen via the Phoenix Online Studios newsletter
Jane does some Q&A on the project
With just over a month to go, the project has only received about 1/2 of the $300,000 they need to start the project. I've already pledged my $16, if you are a fan of the Gabriel Knight series, you should too! You can do this at the  homepage of Pinkerton Road, or their Kickstarter page.