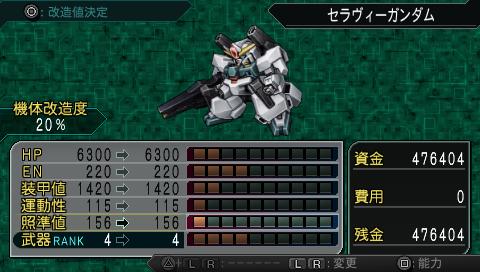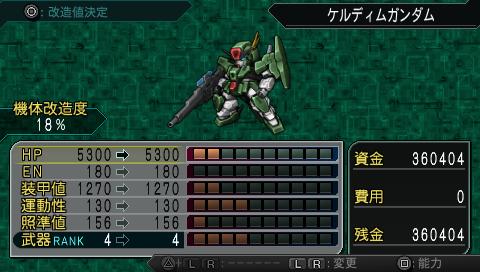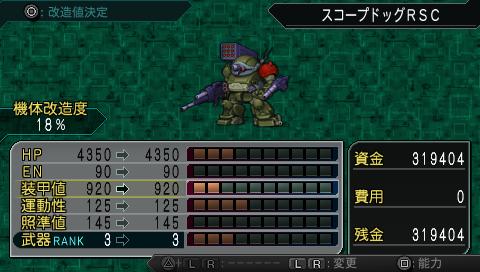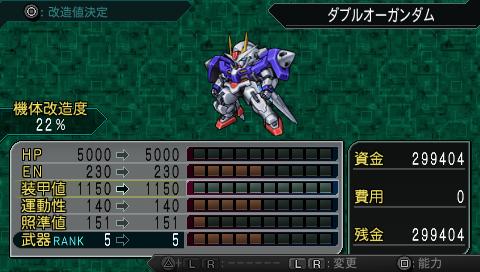 A few more upgrades to go around, especially on Cherudim.
On a side note, if you want to make this stage slightly easier, slam the Propellent Tank on to Wing Gundam, which I forgot to do 🙁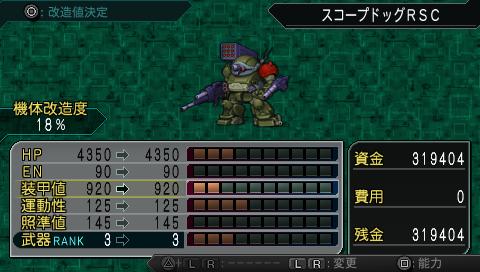 Chirico gets the Vernier Unit, since his abysmal movement usually means the battle is already over by the time he arrives.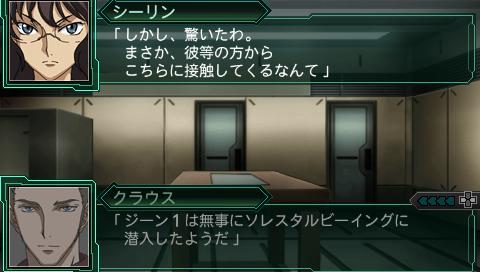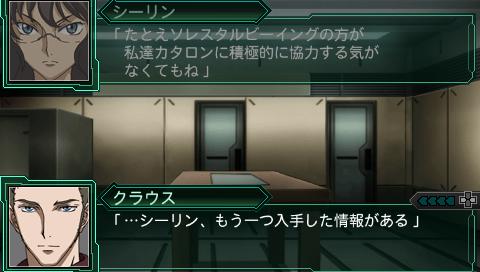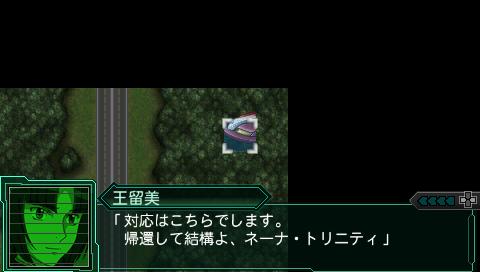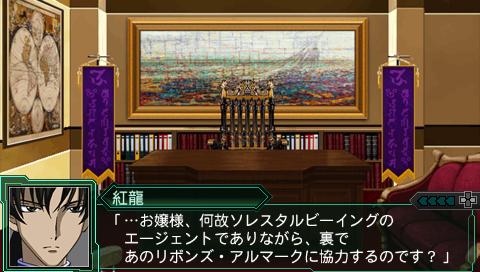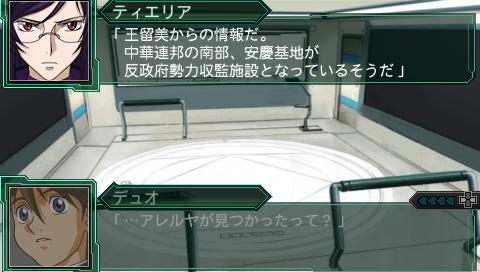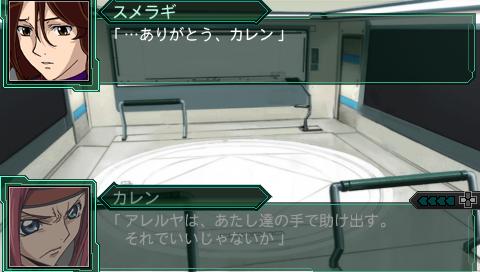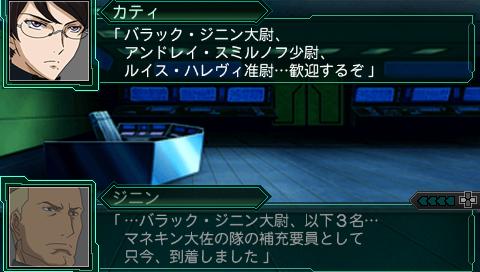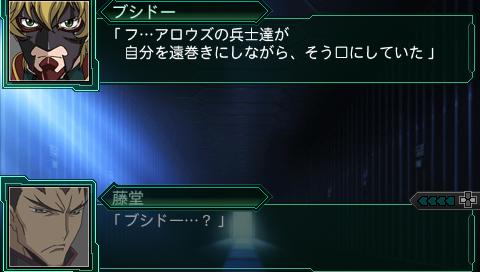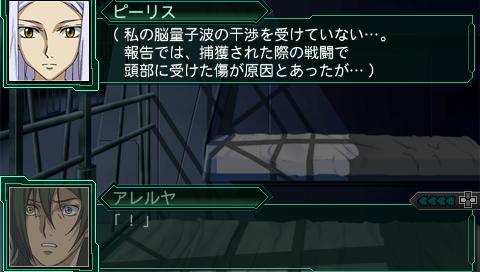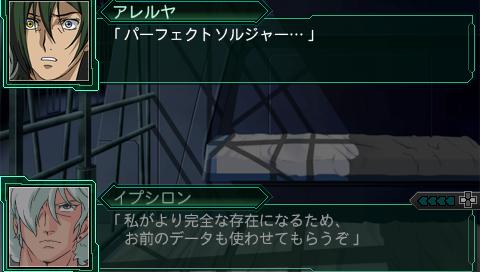 With Sumeragi back in the captain's chair, it's time to go bust Allelujah out of prison!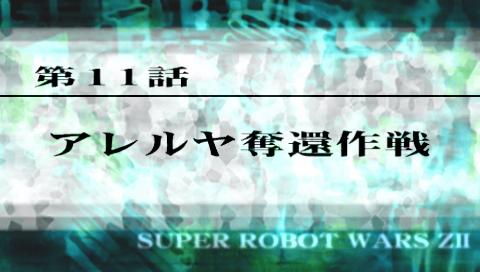 第11話: アレルヤ奪還作戦
Stage 11: Allelujah Rescue Operation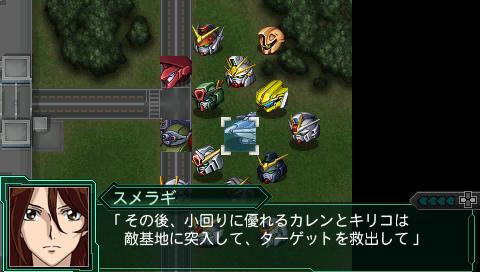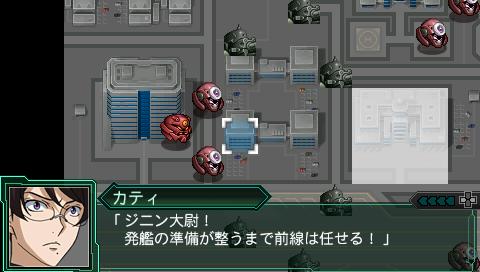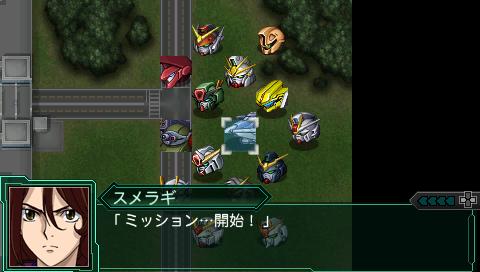 Mission start!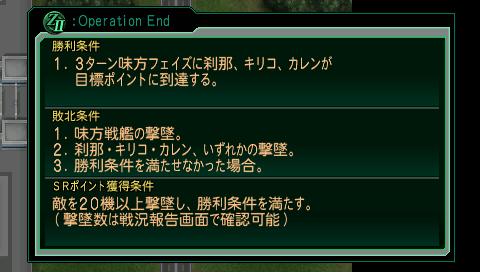 And the SR Point is revealed, we need to destroy 20 or more units by the time we achieve the victory condition, which is have Setsuna, Chirico and Kallen reach the prison marked squares by turn 3.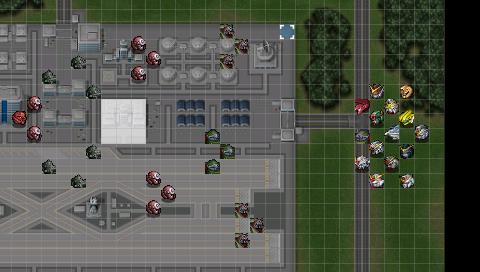 Small, map, lots of enemies, and *gasp* Long range Tierens. 20 units is pretty much everything, except for 4.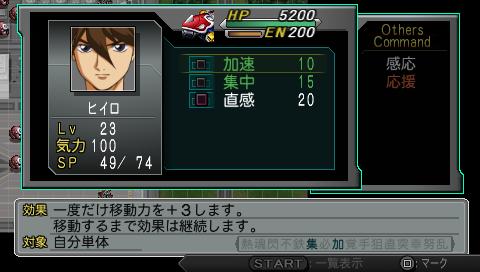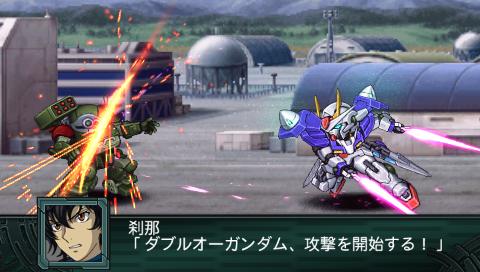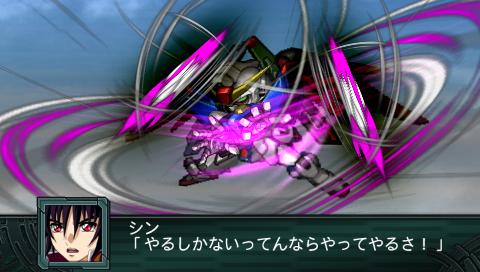 Well time to go fuck some shit up.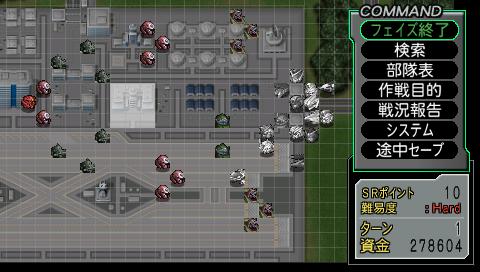 End of turn 1. Heero and Shin charge in again, with Concentrate and Accel. Only 1 kill so far. Make sure to move Kallen, Setsuna and Chirico as far forward each turn as possible, you don't want to screw up and fail because they can't reach the objective!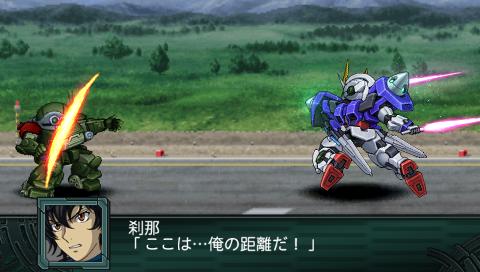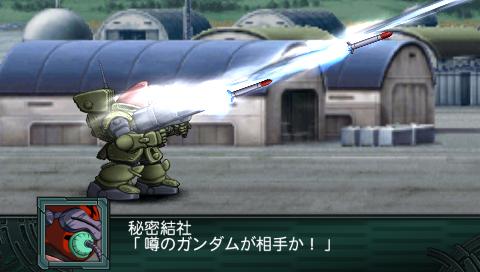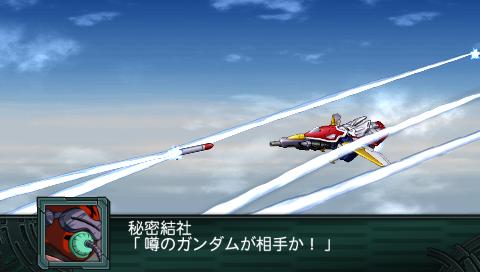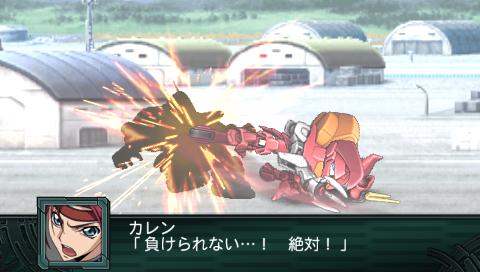 Turn 2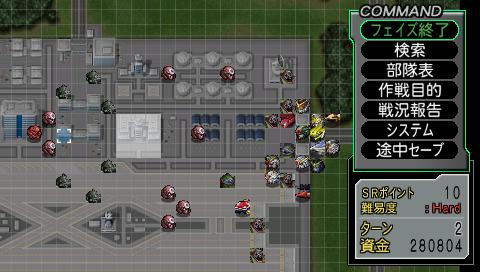 Only the enemy front line moves in.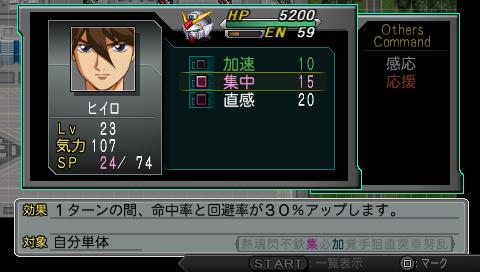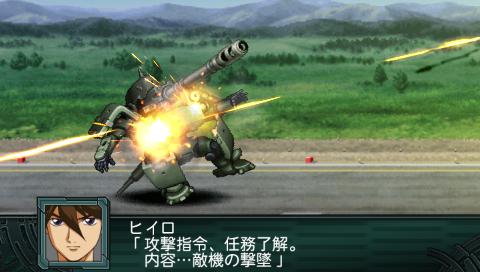 Pretty much need to use seishin on everyone to ensure that we're on track.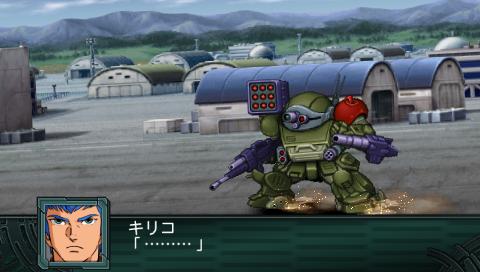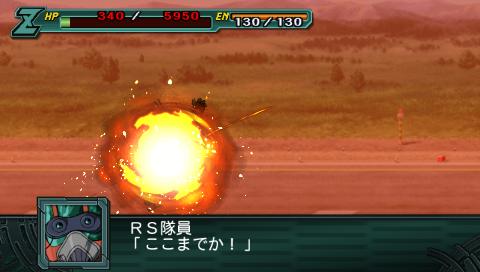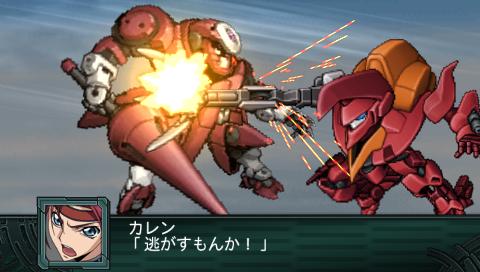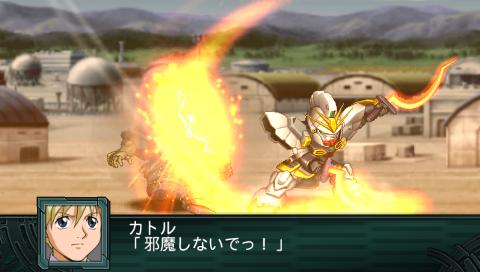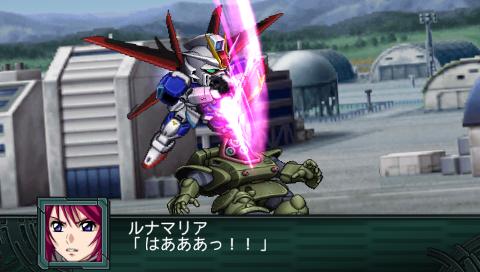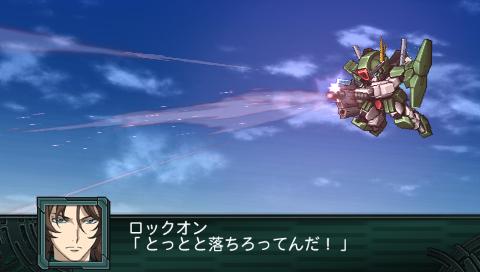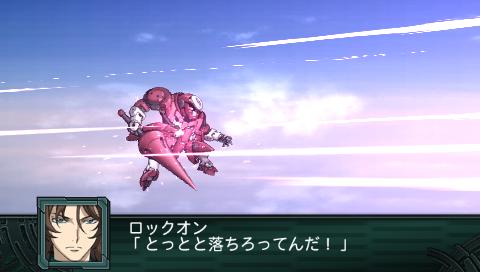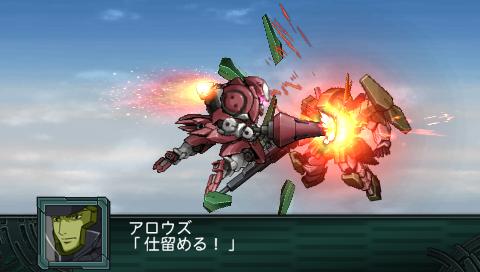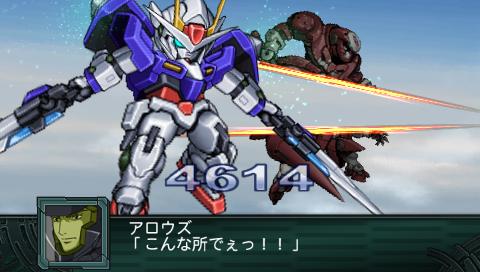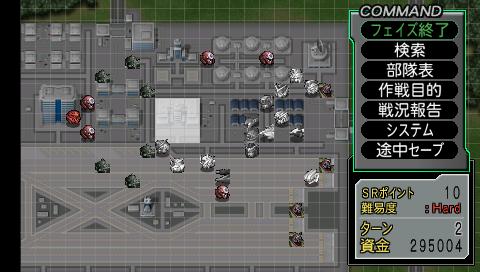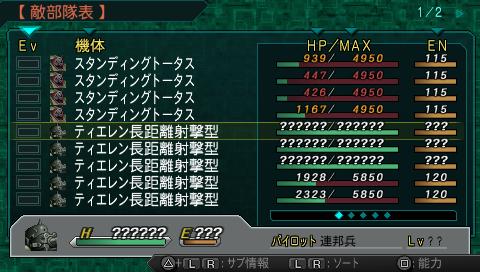 End of turn 2.  I've tried to damage as many guys as possible…unfortunately the Wing Gundam ran out of EN so it couldn't attack in bird mode anymore, but if you had a propellent tank you could refill and send him in to cause more damage to the units at the back for an easier time on the SR Point.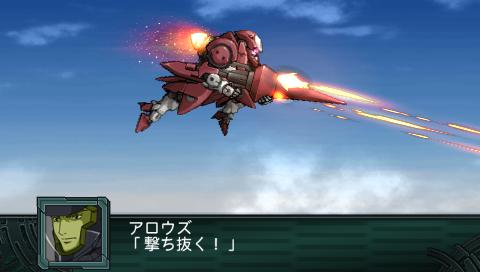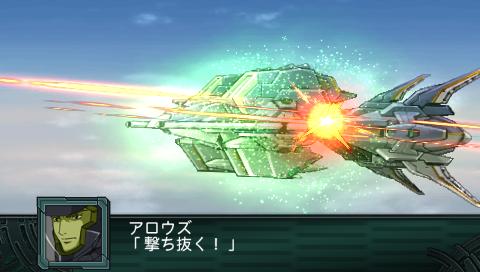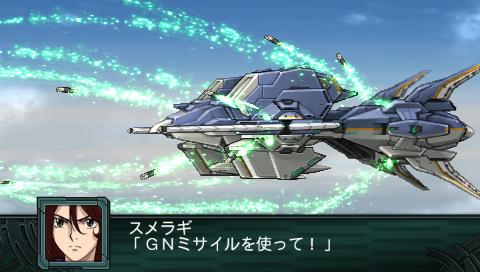 Turn 3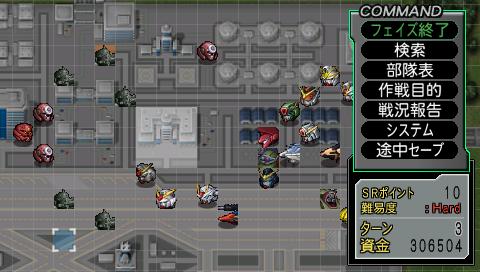 Doesn't look like we're on track for the SR point, but it's actually possible. Since we can leave 4 units alive, I've decided to leave the Ahead, 2 GN-XIII (too high HP) and the top left Tieren (too far away). The rest have already been damaged.

The other problem was going to be this (marked) Tieren at first, but luckily Shinn and Heero can reach it. The other 2 at the bottom can be reached with Zeta and Deathscythe. The one closest by the white box can be attacked by Setsuna, and Kallen as they step into the white zone.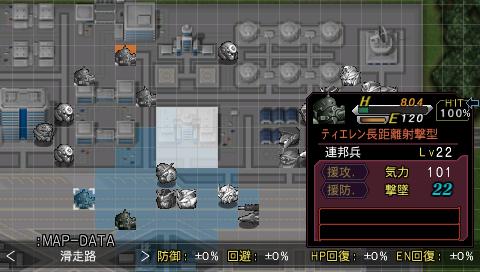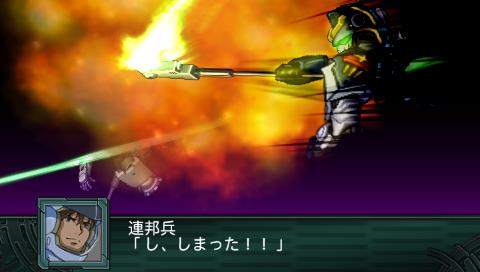 So let's do it…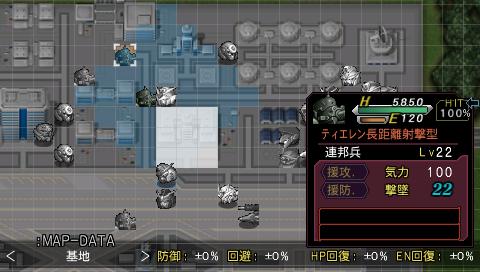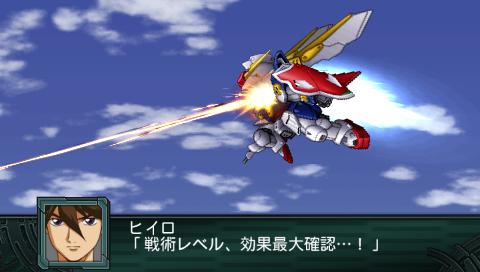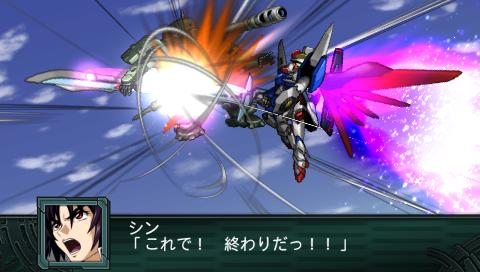 Shinn and Heero take out another…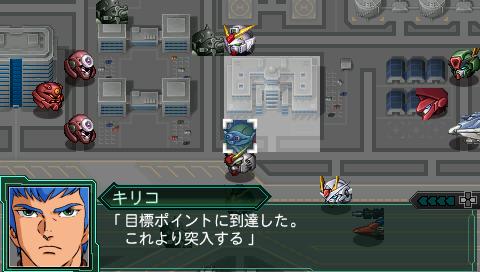 Chirico enters the building…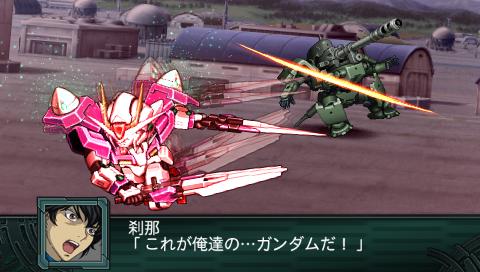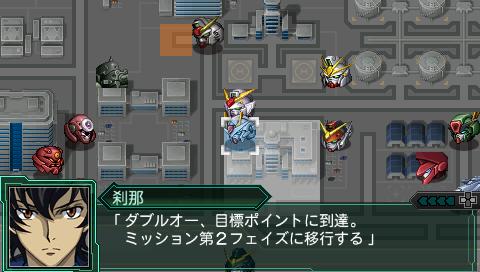 Setsuna takes out one guy and enters…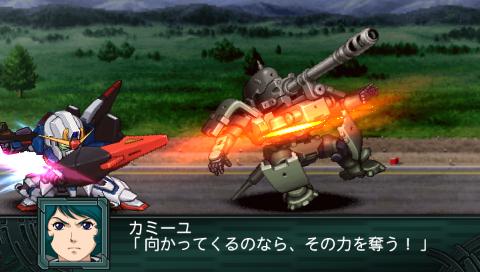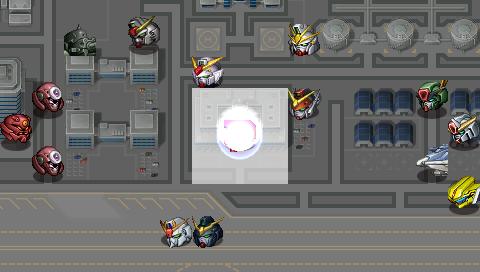 And now having killed my 20 units, I should get the point when Kallen goes in.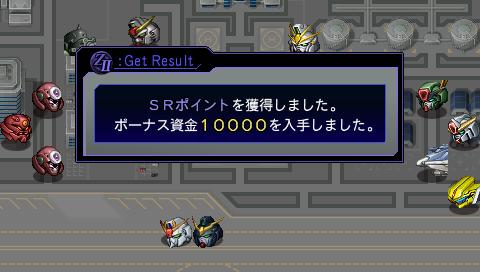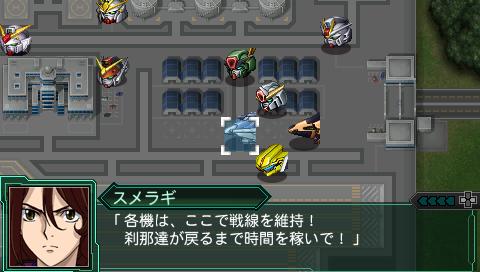 YESH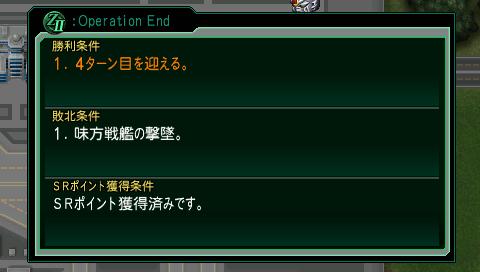 Winning condition updates to win by end of turn 4. Not particularly hard, since there are only 4 guys left (though 3 of them are named enemies).

End of turn 3.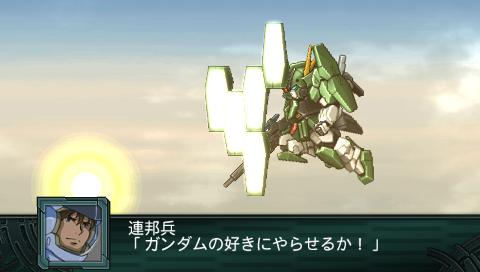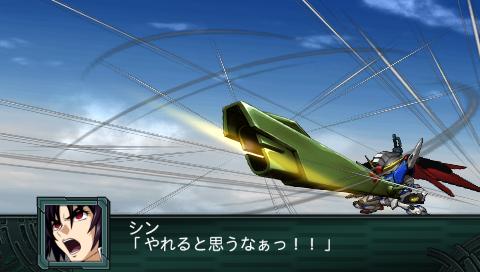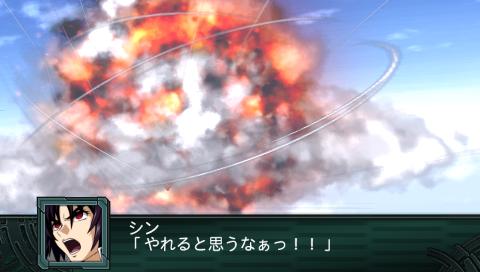 Turn 4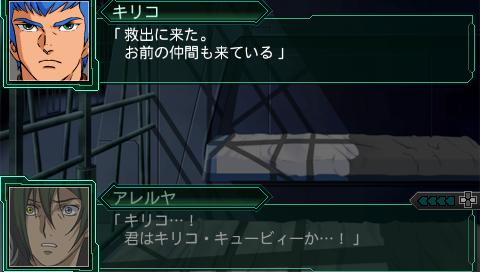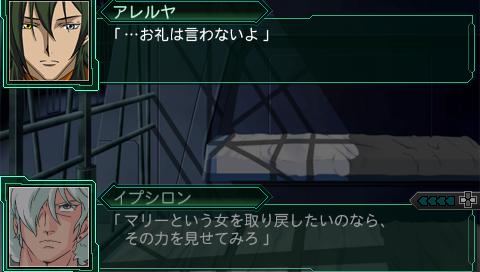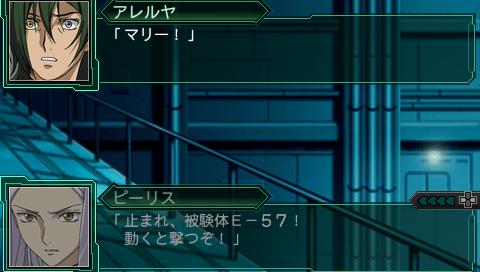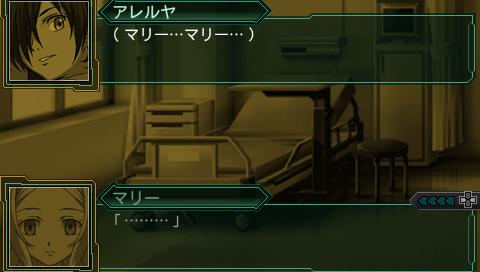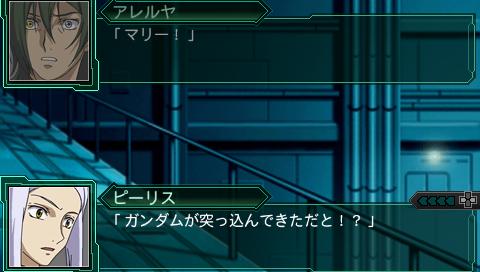 On turn 4, the jailbreak continues inside.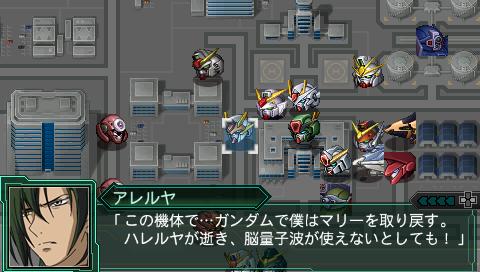 Finally they bust out, and  Setsuna and co. return.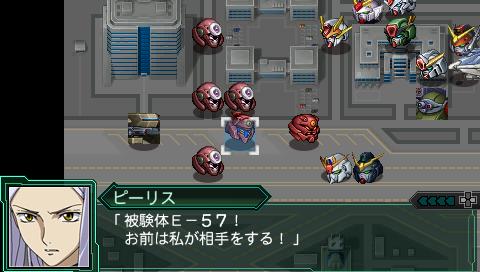 Along with some enemy reinforcements.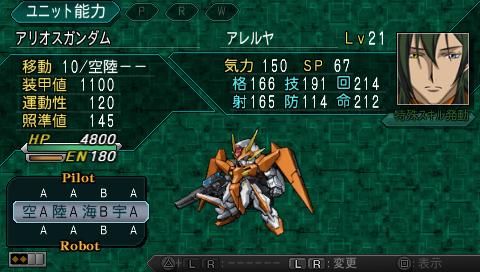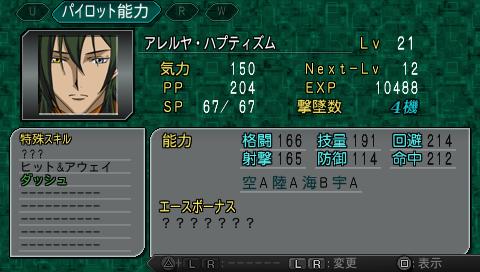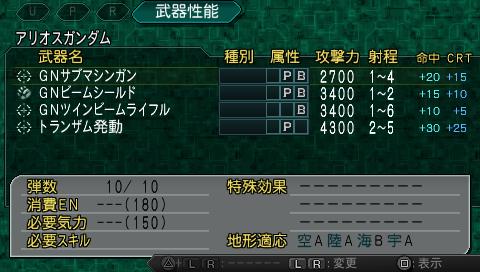 And Allelujah is back with Arios!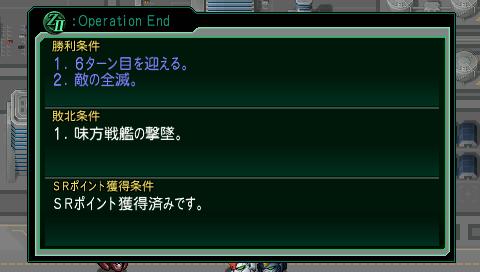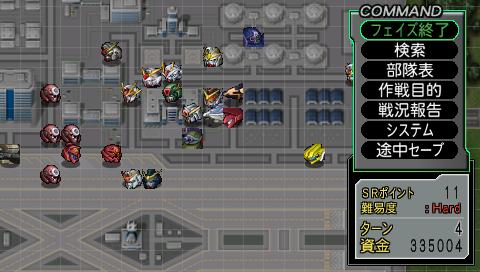 Now we get 6 turns to deal with all these fools.
I lost the screenshot, but I Hyper Jammeed Soma with Deathscythe to reduce her ridiculous accuracy (a bit).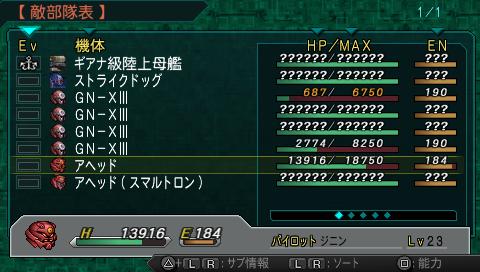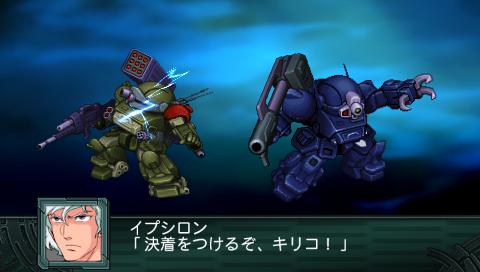 Epsilon BTW, is a major pain in the arse, since you'll need some kind of Sure Hit seishin just to touch him.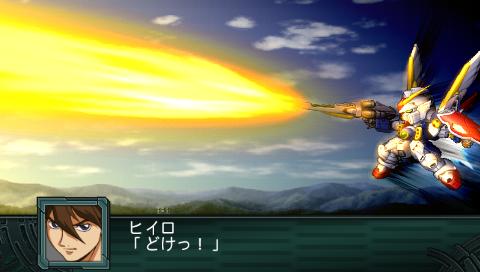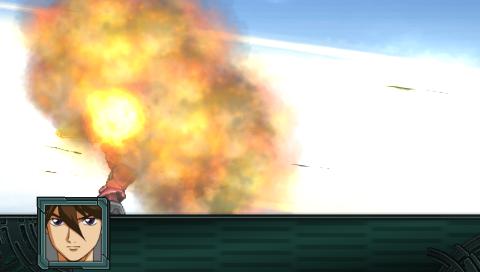 As Heero is out of SP it takes a few resets for him to actually be able to hit something.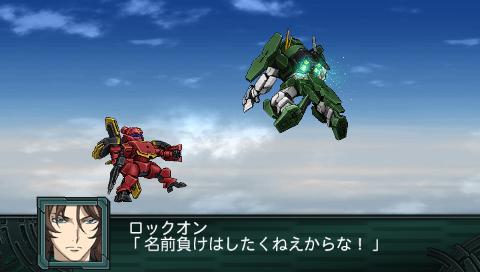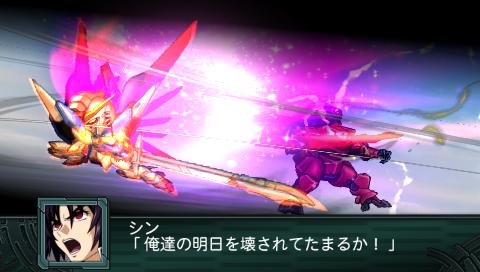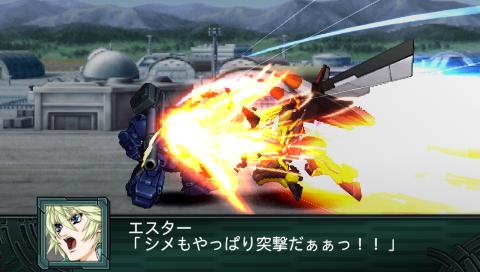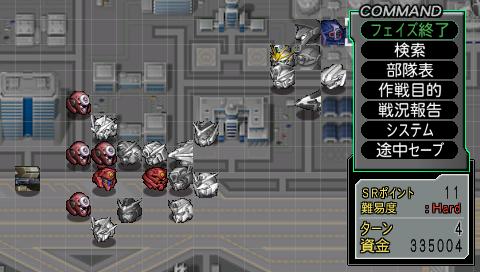 End of turn 4.
Turn 5


Chirico duels Epsilon and comes out on top. You get a Jijirium Chip for defeating Epsilon.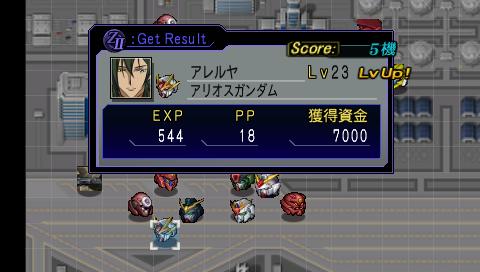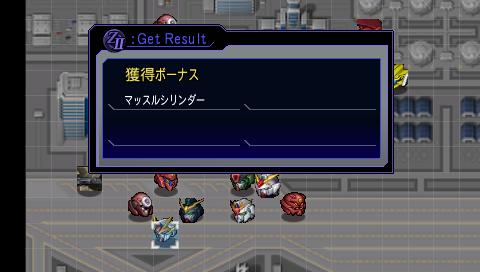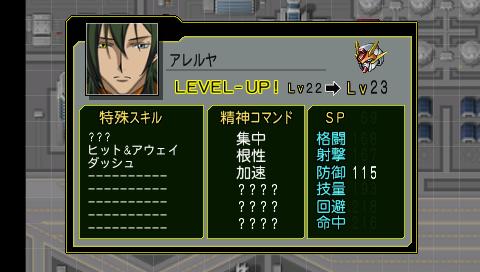 Allelujah downs Soma and gets a Muscle Cylinder.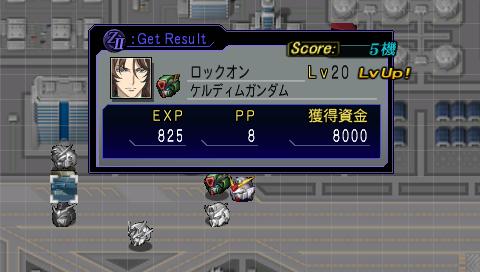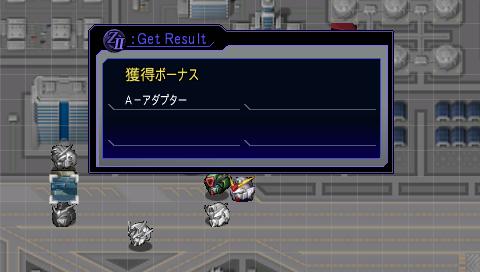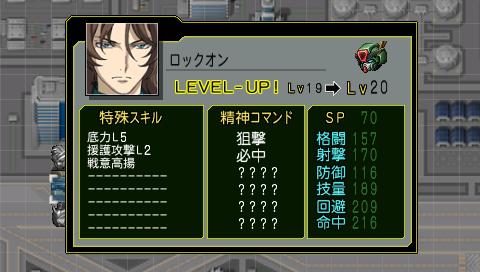 CB team up to bring down Kati's ship, and she nets an A-Adaptor.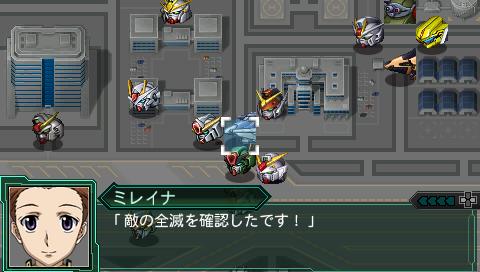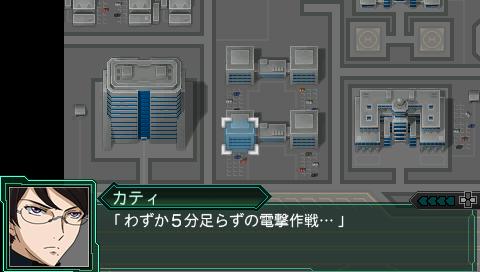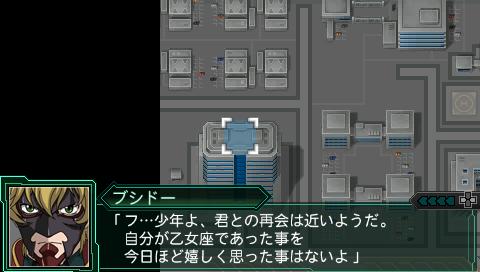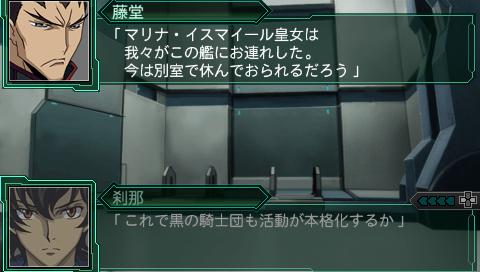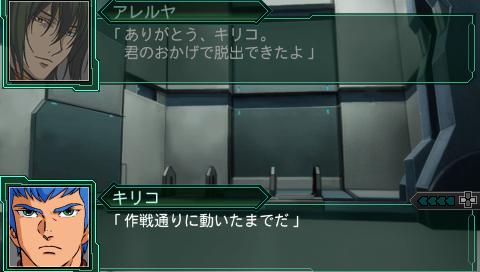 Back on the ship the gang reunites.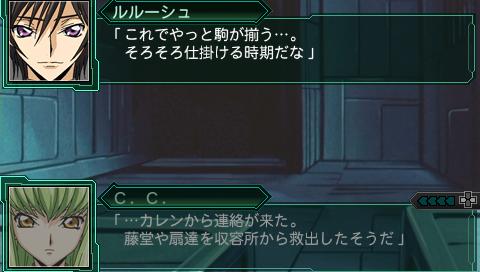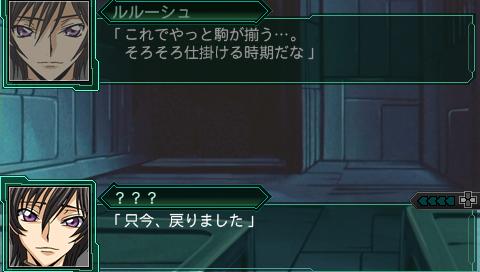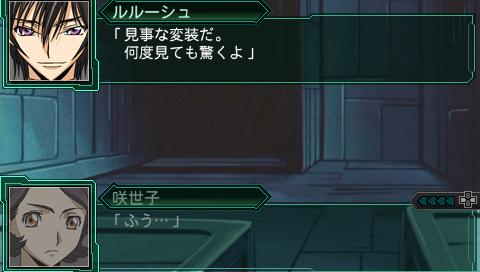 WTF 2 Zeros?