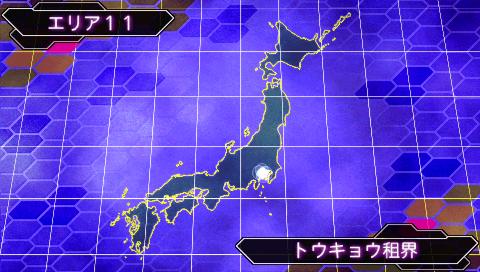 At the Tokyo Settlement in Area 11…
Suzaku
Geass?
V.V
That's right. The power to command obedience.
V.V
Don't you ever wonder why Euphemia changed so suddenly?*
Suzaku
!!!
V.V
And why you disobeyed orders with no memory at Kanejima?
Suzaku
Geass…so this is Zero's power….
V.V
Anyway, you'll find out soon enough for yourself. About Zero's identity!
Suzaku
(Is this really the truth? Is Lelouch really Zero?)
Suzaku
(Zero…so you really made Euphie do those horrible things…)
At the Black Knight HQ, Zero finalizes his plans to attack the Settlement.
Zero
Our target is to secure the Area 11 Administrative Building and capture Princess Cornelia!
Kallen
Yes sir!
Tamaki
Sir!
Zero
(That's right…once I capture Cornelia, I can force Schniezel to act! And after him, I'll have my revenge on Charles vi Brittania! My own father who allowed my mother to die!)
Zero
(Only then will the world be a place fit for Nunnally to live!)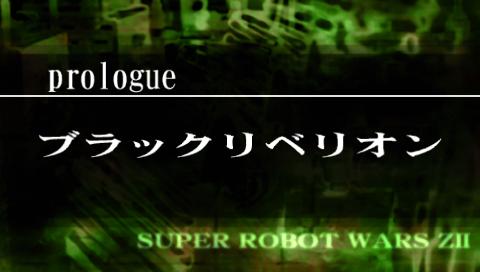 第1話: ブラックリベリオン
Prologue Stage 1: Black Rebellion

Inside the settlement things aren't going so well for Britannian forces. Zero ingeniously Geassed various officers to purge the walls of the Tokyo Settlement, allowing the Black Knights to waltz straight in. Meanwhile, the remaining Britannian forces have positioned themselves outside the Administrative offices.
Cornelia
Damn you Zero! We've lost all infrastructure and the wall to the Tokyo Settlement!
Guilford
Princess! We should hold out here at the Government offices until the reinforcements arrive!
Cornelia
That would just give Zero more time to play his dirty tricks!
Guilford
But…
Cornelia
Bring it on Zero! I'll end you and avenge Euphie here once and for all!

Not far from the battlefield, the Black Knights have captured Ashford Academy to use as a front base. The Black Knights however, are unaware that this is actually Zero's plan to guarantee the safety of his friends, and more importantly his sister Nunnally, while he wrecks the rest of Tokyo.
Rivale
What the hell is going on outside?! It's a warzone!
Nina
(Zero….I'll kill you for what you did to to Euphie!)
Rivale
Hey has anyone seen Relena or Lelouch?
Milly
Well Relena is up in the colonies…but I haven't seen Lelouch anywhere….
Nunnally
Brother…
Milly
I'm sure he's okay though, right Shirley?
Shirley
R-right!
Shirley
(I'm so confused and scared….Lelou….are you really Zero?)
Lord Vader himself shows up to inspect the premises.
Zero
I hope you are all well, Ashford Committee members!
Rivale
Z-zero!
Nina
I-it's Zero! Euphemia's murderer!!
Nina
YOU KILLED EUPHEMIAA!!!
????
Stop it, Nina.
Shirley
It's….
Nina
AHHHHHHHHHHHHHHHH!
Kallen
Please, everyone, do as Zero says.
Zero
We, the Black Knights mean you no harm. As long as you remain within the premises, I will guarantee your safety.
Black Knight
Zero! Brittannian forces are on the move! The Lancelot is with them!
Zero
I knew he'd show up. Come Kallen! We are needed on the battlefield!
Kallen
Sir!
* Kallen actually attends Ashford Academy as a student as her cover identity. This is the first time her friends learn of her as a Black Knight, and hence why they are shocked.
Elsewhere at Ashford Academy…
Chigusa
…
Ougi
Chigusa, why are you here?!
Chigusa
…
Ougi
I'm sorry I didn't tell you about me and the Black Knights. B-but we fight for the sake of peace!
Ougi
Once we liberate Japan, everyone can finally accept us being together!
????
Me, being with an Eleven? Disgusting.
Viletta
I'm Viletta Nu, a Britannian Knight of Honour!
……
*gunshot*
Ougi
!!!!
Ougi
I see…Chigusa..your memories are back..
Viletta
All that's left to do is inform Princess Cornelia about Zero's true identity!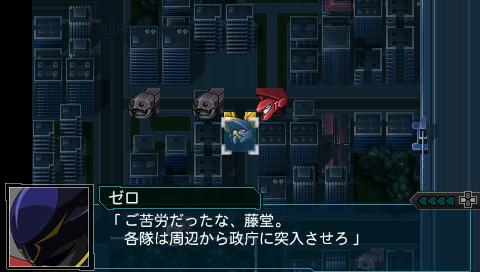 The assault begins!…with our 5 units.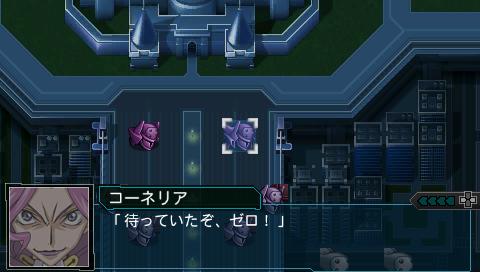 So here we are at turn 1, with 4 of the Black Knights vs Suzaku, Jeremiah and a whole bunch of grunts. Since this is just a prologue stage, there's no SR point, just simply defeat Cornelia to end the stage.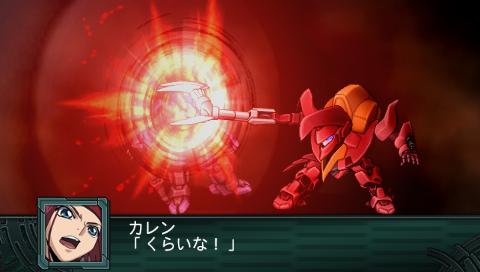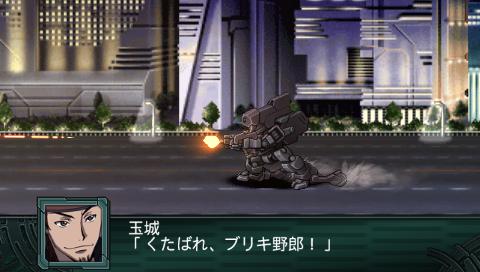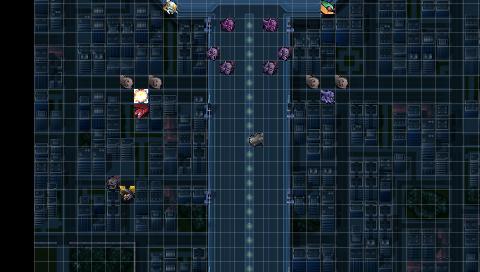 Charging straight in with focus/iron wall, I manage two take out two grunts straight off the bat.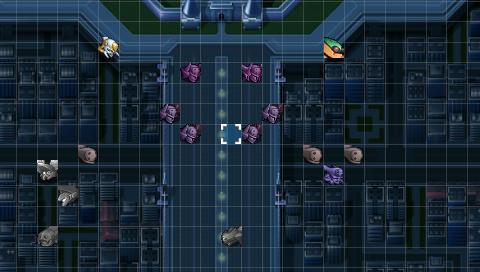 End of turn 1.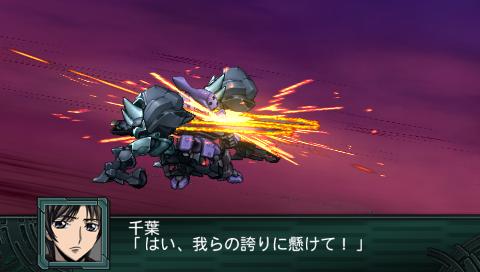 During enemy turn Tohdoh & Gang go on a massive stabbing spree.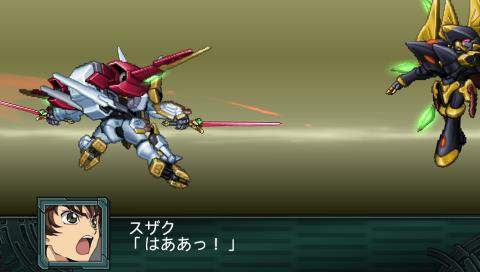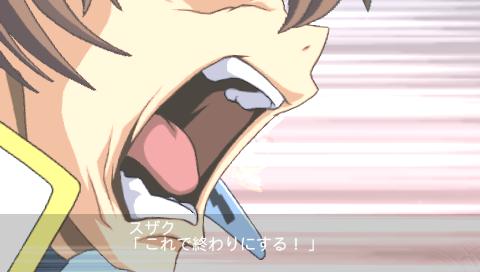 Suzaku gets mega salty when he misses.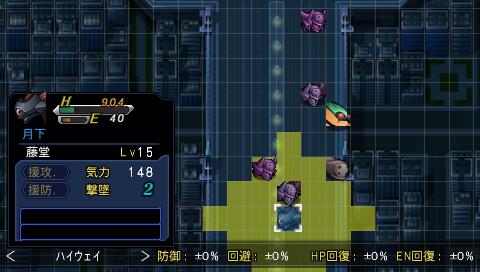 Start of turn 2. Tohdoh cops a hit from Jeremiah and is in bad shape.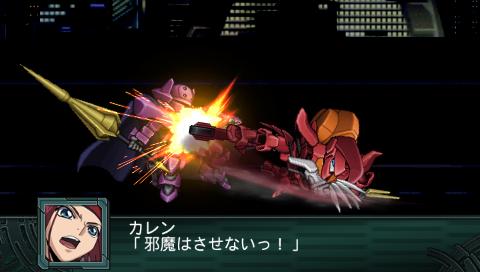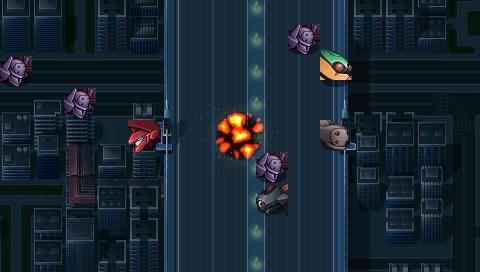 Karen takes out Gilford…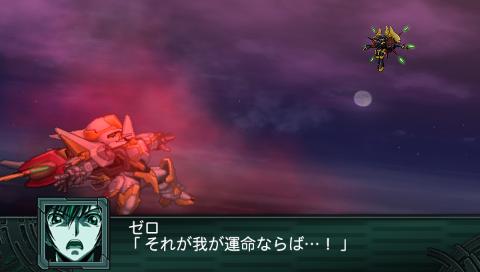 YOUR GOD DEMANDS A SACRIFICE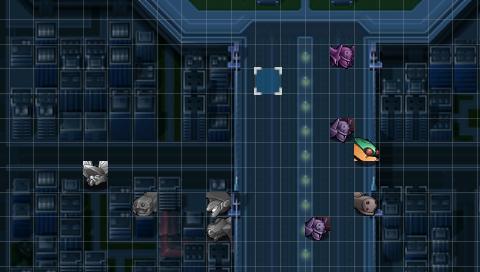 End of turn 2.

While the rest of the grunts throw themselves at Kallen…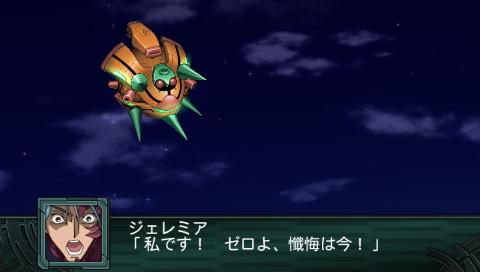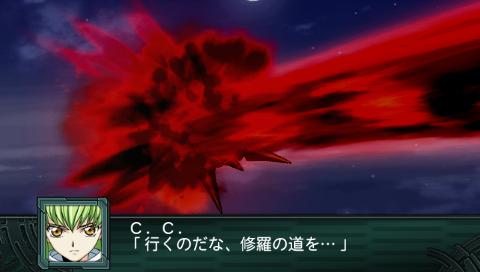 Jeremiah goes after Zero but gets a face full of RED HADRON goodness.

Turn 3.  Just one grunt, Cornelia and Jeremiah left.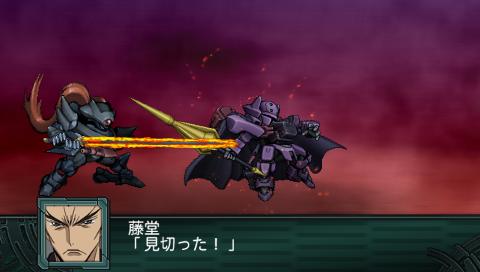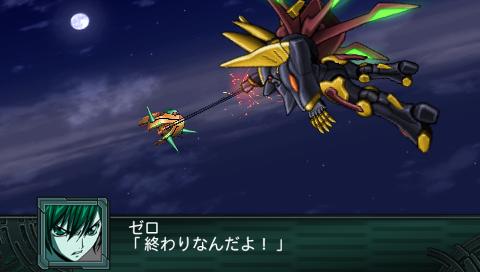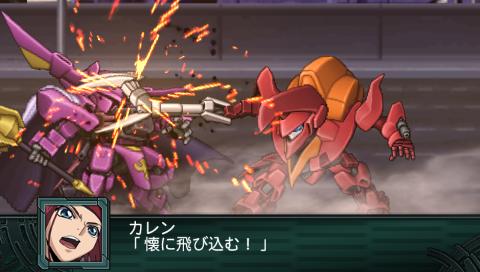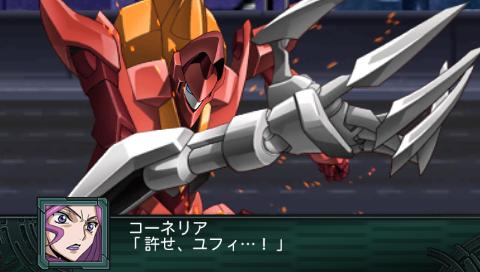 Cornelia is easily dispatched by Kallen.
Upon her defeat, Cornelia initiates a final last ditch attack against Zero.
Cornelia
Not yet! It's not over yet Zero!
Zero
Arrrgh! I don't understand! According to our machine specs, I should be beating her!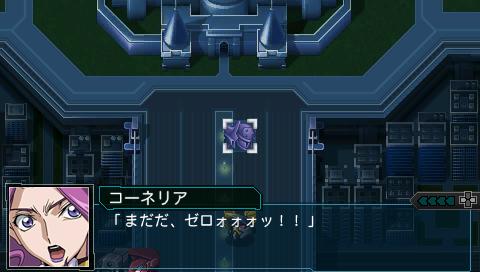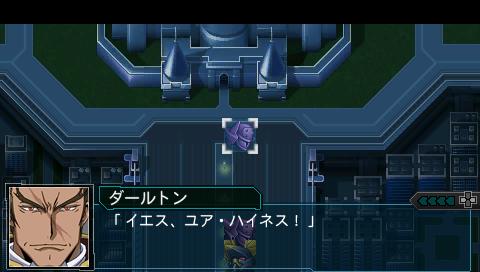 Dalton finally arrives on scene…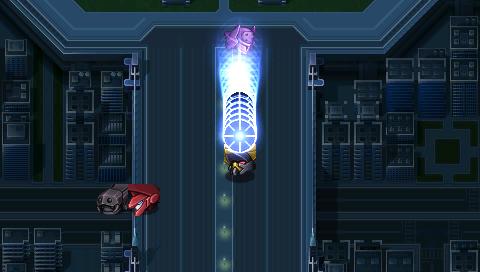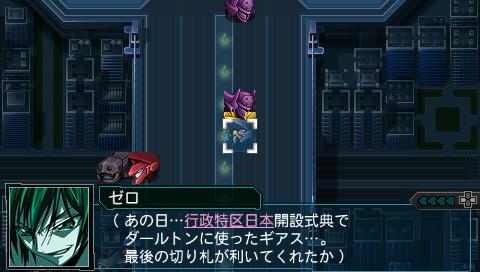 ..who instead shoots Cornelia in the back, having previously being Geassed by Lelouch.
Zero
Thank you Darlton…your services are no longer needed!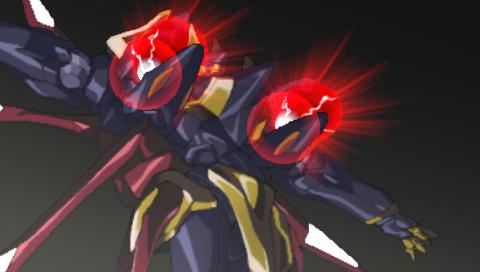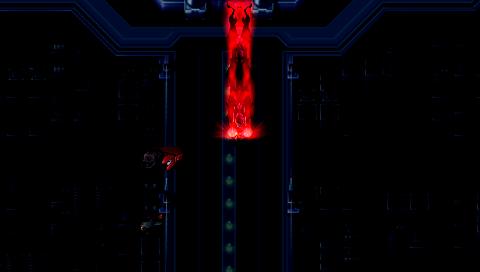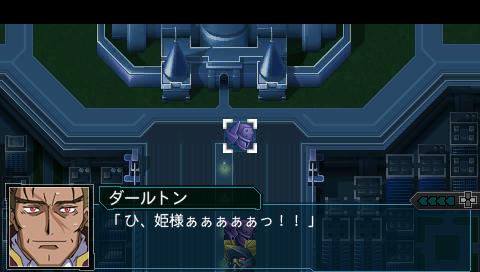 Lelouch proceeds to thank the man by frying him with the Gawain's Hadron cannons.
Having cornered Cornelia, Zero unmasks himself as Lelouch and begins the interrogation…
Cornelia
So it really is you Lelouch…
Cornelia
They told us you were killed in the invasion of Japan…
Cornelia
You're doing this for Nunnally…aren't you?
Lelouch
I'll destroy the façade of peace that is Britannia!
Cornelia
Is that really worth the blood of Clovis and Euphemia?
Lelouch
Enough!
Lelouch
Now Cornelia…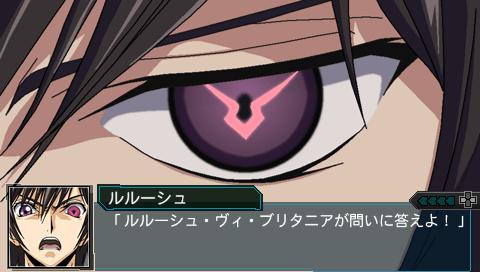 Lelouch
Lelouch vi Britannia commands you! Answer my questions!
Cornelia
…..
Lelouch
Were you the one who killed my mother?
Cornelia
No.
Lelouch
Then who did it?
Cornelia
I don't know.
Lelouch
You were in charge of the guards back then, right?
Cornelia
Yes.
Lelouch
Why were the guards withdrawn?
Cornelia
Because I was asked to do so.
Lelouch
By who?
Cornelia
Lady Marianne.
Lelouch
By mother? Impossible!
Lelouch
(What the hell is going on? Did she really expect the attack on her? But why didn't she arrange for Nunnally's safety??)
Lelouch
Who killed my mother?!!
Cornelia
……..
Lelouch
You don't know? Then tell me who does!
Cornelia
Schneizel moved the corpse under His Majesty the Emperor's orders.
Lelouch
Schneizel!
The interrogation is cut short…
C.C.
Lelouch, you'd better get back, quick!
Lelouch
I know, we should get take Cornelia hostage and retreat before the reinforcements….
C.C.
Your sister's been taken!
Lelouch
I don't have time for jokes!
C.C.
I know, she's your reason for living right? She's being taken to Kamine Island!
Now you might think this wouldn't be such a big deal, given that he's on the verge of victory, but the guy started this whole war against Britannia FOR THE SAKE OF HIS SISTER. Needless to say, he's pretty shattered.
Zero proceeds to call Ougi to confirm this.
Lelouch
Ougi, report!
Minami
It's Minami sir! Ougi's been shot!
Lelouch
Never mind Ougi! Where's the blind girl in the wheelchair? WHERE IS SHE?!!!
Minami
We've lost her sir! In the midst of the confusion, the student council hostages escaped!
Lelouch
What?!!
Lelouch
Toudou! I have something urgent to attend to! You will take command!
Toudou
S-sir?
Tamaki
You gotta be fucking kidding! What's more important than winning the battle?
Zero promptly rushes off to save his sister, causing a whole bunch of comm chatter.
Cornelia
Kururugi…
Suzaku
Princess Cornelia!
Cornelia
…Go to Kamine Island…Zero is there…
Cornelia
….and….I can't remember….
Suzaku
(Looks like she's been Geassed…)
Cornelia
You…you're Euphie's knight aren't you?
Cornelia
…go…clear…Euphemia's…name…
Cornelia
…A bit impromptu…but I dub thee…a Britannian Knight of Honour…
Cornelia
You are now a Knight…in name…and in reality!
Cornelia
…go…Kururugi Suzaku!
Suzaku
Yes your Highness!
Meanwhile Ougi contacts Kallen…
Ougi
Kallen! You have to follow Zero!
Kallen
!!!
Ougi
You have to protect Zero at all costs…
Ougi
He's the only one capable of realizing Naoto's dream…the dream of a free Japan!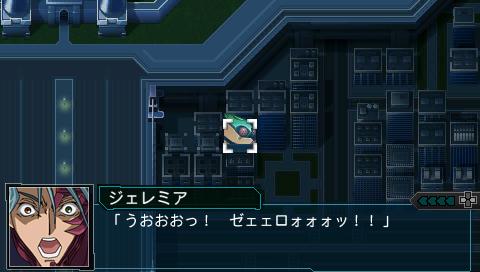 Being the popular lad that he is, Suzaku and Kallen fly off to pursue Zero, as well as an unstable Jeremiah, who'e obsessed with defeating Zero.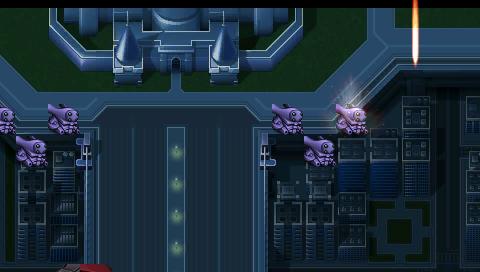 …just as the Britannian reinforcements arrive, leaving the rest of the Black Knights in a tiny bit of shit.
Tamaki
Awwwwwwww………
Chiba
……..fuck.
Lelouch and C.C. arrive at Kamine Island, outside the cave where Britannia is conducting excavations of ruins possibly related to Geass.
Lelouch
I thought it would be this place…
Lelouch
Tell me C.C! Does this place have something to do with you? Was Nunnally taken by someone who has Geass?
C.C.
I don't know.
At this point a trap triggers, initiating some kind of mental attack against the duo. It also has the side effect of showing Lelouch some of C.C's memories as an immortal witch.
C.C.
I can't die. All I have are my memories as a witch. I don't remember those you hate or love me. Alone forever…
Lelouch
You aren't alone C.C.
C.C.
!!!!
Lelouch
We're accomplices…remember?
Lelouch
If you're the witch that can't die…
Lelouch
Then I'll become the devil.
C.C.
Heh, that's one hell of a thing to say now.
The quiet moment is spoilt by the arrival of Jeremiah, who is HARD for Zero.
Jeremiah
Z-zz-z-zz-zero! It's time for you to repent!!
C.C.
He's here. I'll stall him while you go save Nunnally.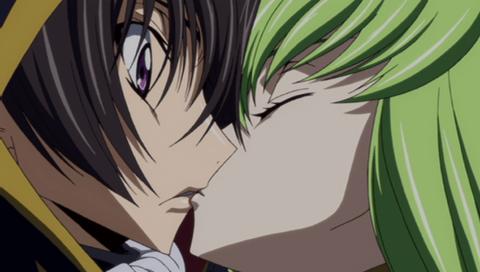 C.C.
Lelouch. Fight your past. Rise above the consequences of your actions!
Lelouch
C.C. Don't die.
C.C.
Who do you think I am?
Lelouch
Heh, I suppose.
With that, Lelouch is dropped off as C.C. goes to fight Jeremiah.
Kamine Island ruins…
Lelouch
There's no one here!
Suzaku
Turn around. Slowly.
Lelouch
(Why the hell is he here?!)
Lelouch
Euphemia massacred the innocent Japanese. You'd still fight for a woman like….
Suzaku
That Geass is pretty convenient power isn't it?
Lelouch
!! (How does he know about Geass?!)
Suzaku
You hide in the shadows while everyone else takes the blame. You coward!
Suzaku
Kallen!
Kallen
!!!!
Suzaku
You want to know Zero's true identity, right?!
….
*gunshot*
Lelouch
…………
Kallen
N-no! It' can't be…..
Suzaku
I didn't want to believe it…
Kallen
Lelouch is….
Lelouch
I am Zero. Leader of the Black Knights who oppose the Holy Britannian Empire.
Lelouch
And the world is within my grasp.
Kallen
You used us Japanese!? Even me…
Lelouch
If you look at the outcome, Japan will be liberated. Surely you don't mind that?
Kallen
!!!!
Suzaku
I should've arrested you earlier…but I didn't want to believe it was you.
Suzaku
I always denied it…because I always believed in you…
Suzaku
But you were always lying! To both me and Euphie! And Nunnally too!
Lelouch
Nunnally's been kidnapped! Suzaku, can't we have a truce for now? Help me save Nunnally!
Lelouch
There's nothing we can't accomplish together!
Suzaku
How naïve!
Lelouch
Tch!!
Suzaku
You would betray the world until the bitter end! Just like how the world has betrayed you! I can't let someone like you exist!
Lelouch
You idiot! Shoot me if you want! I have liquid Sakuradite with me! It'll explode and kill us all if my heart stops!
Suzaku
Bastard!
Lelouch
I'll make you a deal. Tell me who told you about Geass! Did that person do something to Nunnally?
Suzaku
Everything from now on has nothing to do with you! Your existence is a mistake! I'll save Nunnally!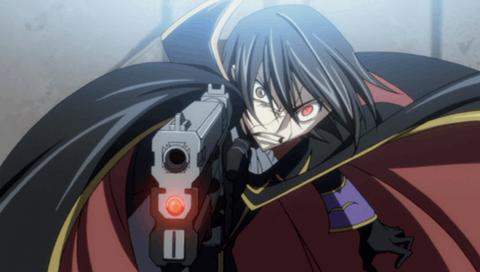 Lelouch
SUZAKUUUUUUUUUU!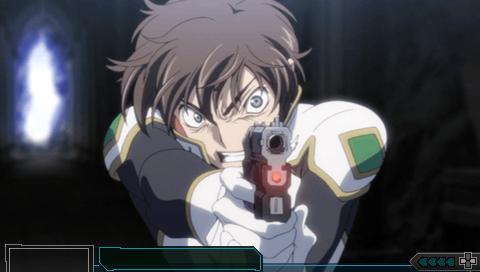 LELOUUUUUUCH!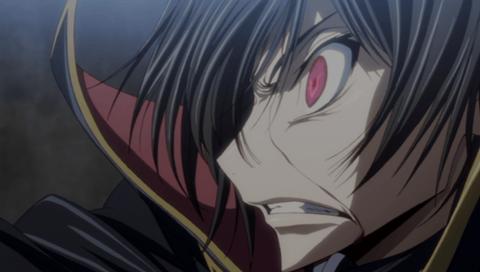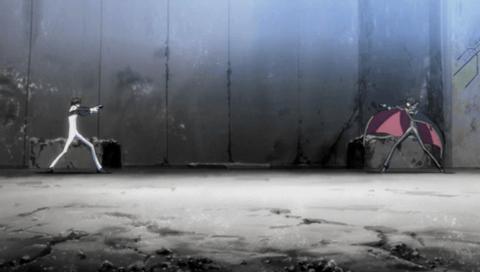 ………
*gunshot*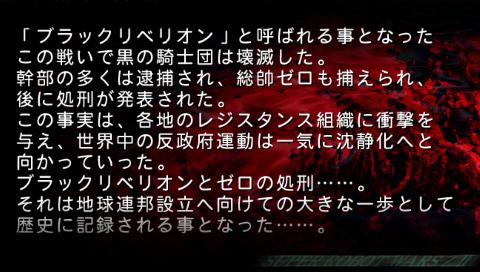 During their assault on the Tokyo Settlement, the armed rebel group known as "The Black Knights" were exterminated. In the aftermath of the battle, it was rumoured that the leaders of the Black Knights were apprehended, along with Zero himself who was executed. The defeat of the Black Knights was a major blow to major resistance movements around the world, and they soon fell silent. The day would be remembered in history as the "Black Rebellion", the day that the infamous Zero was executed, and as the first major steps towards a united Earth Federation.
Comments
That brings the first prologue stage to a close, with the ending of Code Geass R1. So far there's nothing new, but the real game hasn't even started yet!
A Zero point can be acquired on this stage which will contribute towards the acquistion of the alternate "ZEXIS" route split at the end of the game. All you have to do is shoot down Cornelia using Zero.
Credits
Mark Neidengard's ongoing translation
Code Geass EP25 subtitles