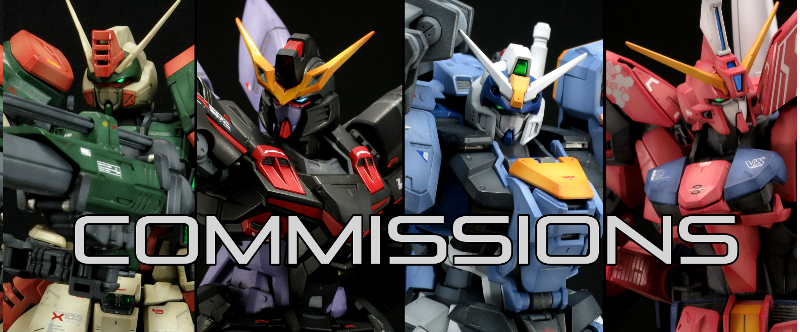 I'm currently open to doing commissions on a limited basis, please email me your project and I'll consider it if it fits into my schedule!
Why choose Saint-ism?
I've been building Gunpla for around 10 years and I specialise in out of the box factory-clean builds with some subtle shading. You may have seen some of my work on Reddit or forums like Gundam Eclipse or Gundam Australia Forum. Here are some examples of my work:
More can be found at my Completed listing kits here.
If this style appeals to you, I'd be happy to build your kit for you! Whilst I mainly do stock colour schemes, I'm pretty proficient at mixing up colours to suit your needs and you can browse my portfolio to get an idea of what you want your finished colours to look like.
As I'm just starting out on commissioning, I'll only accept work on HG, RG and small to medium size MG kits at this stage. So please no MG Sazabi's or Perfect Grades for now. This may change in the future.
What is the process?
If you decide to go ahead, we'll get in contact to discuss your ideas and if I can actually fulfill it. If you're after a custom colour scheme, I'll try draft up some lineart to help visualise the final product. Once I confirm your requirements and acquire the kits/materials, I'll begin the build and paint process which generally takes around 3-4 weeks, during which I'll send you WIP updates (or post on here with your permission) . Once the kit is built, I'll do a simple photoshoot before mailing your kit through registered post with tracking number.
How much will it cost?
The cost for the commission will include materials such as paint, primer, topcoat and a service cost based on the time taken to prepare, paint and build the kit. Once I have a better idea of what you're after I'll give you a quote via email.
Generally I'd ask the cost of the materials upfront, so I can purchase them and begin work. You can either mail me the kit you want built or I can acquire it on your behalf.
Service costs include the time taken for me to prepare the kit for building, and painting. Decaling is an optional extra, however, I will only use waterslide decals on my work. These will come at an extra cost as Bandai kits don't normally include them. My preferred supplier is Samueldecal and most of the kits you see in my portfolio use them. Again you can either purchase them and ship them to me, or I can purchase them at an upfront cost.
Paypal is the only payment method I will accept, and we'll work out milestones in which part payments can be made.
How long will it take?
Due to my limited schedule the average turnaround time for a build is around 4-5 weeks for a HG kit and 5-7 weeks for an MG kit. However there may be delays due to waiting for decals to arrive in the mail, general weather, or the number of kits I'm working on at the same time. I'll keep you informed at every stage of the process and let you know if there are any major delays.
Do you do any scratch building or mods?
Not at this stage, no.
How do we get started?
Send me an email at yj at saint-ism dot com with
The kit you're looking to commission
A brief description or ideas for your colour scheme. If you have coloured lineart, even better!
Thanks!
YJ