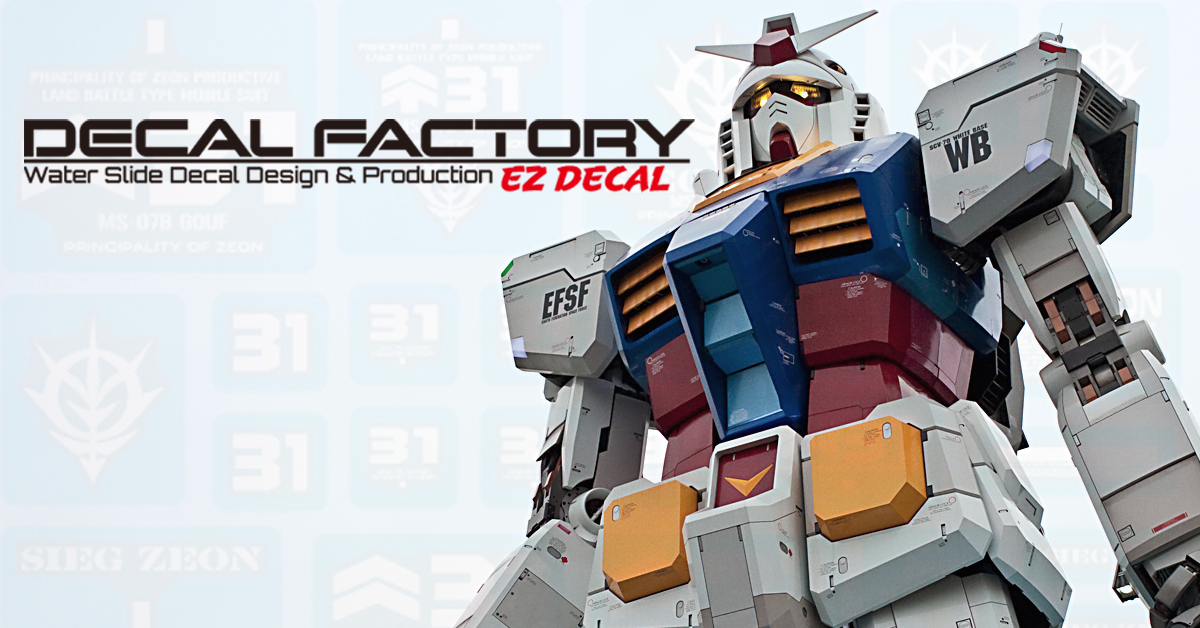 Decal Factory is a somewhat newer entry into the 3rd Party decal space. I'd never even heard of them until they starting posting some of their work on Reddit a few months ago.
Since I consider myself somewhat of a decal connoisseur I was curious enough to give them a try. Here's a review of my experience purchasing and applying their decals.
Ordering
Ordering was a simple process via their online store. You do need to make an account with "GMarket" first though, they seem to be Korea's version of eBay.
I ordered 4 decals:
RG Wing Zero EW
RG Amatsu Mina
MG Gundam Origin
MG Justice Gundam
The checkout process also calculates shipping, but unfortunately the only option is to ship via EMS. It ended up costing about 15 USD to ship these to Australia.
Shipping
Once you make your purchase, these decals are shipped off domestically to GMarket, who then post internationally to you. Note that at this point you may have to pay extra shipping cost if somehow the original shipping estimate was not accurate, but in my case I did not have to do anything.
The decals took about 7 days to arrive in total, during this time I could track the package via the shipping number provided. This included the time DecalFactory had to post the stuff to GMarket, and then it was held at the GMarket warehouse for another day or so before it was posted internationally.
When the decals finally arrived I was actually amazed at the size of the box it arrived in:
A double packed box?!
Inside each decal is put in their own individual snap-lock bag, which are pretty heavy duty I might add. A quick "thank you" and instructions are included, but they are in Korean.
First imrpessions
Right out the box I can say the decals look really well printed. The actual paper doesn't feel quite as nice or smooth as Hi-Q or Bandai but still pretty nice. Fonts look accurate and there are no spelling mistakes that I could see.
Comparing the promotional image to the actual decal sheet
The main gimmick of these decals is their "EZ Decal" system, wherein that they are double-precut. What this means is that you don't actually need to cut each decal out, instead they are cut in a sticker like fashion so you can peel them straight off the sheet. Inside each square each decal is also also pre-cut.
Left – Typical "Super Detail Up" decals that I used for my RG kits in the past. Right – RG Wing Zero EW decals from Decal Factory.
A quick comparison of the decals I previously used on my RG kits and the Decal Factory decals. I took the image from eBay, but typically these decals have wonky fonts and sometimes some really bad Engrish. The Decal Factory ones are light years ahead (but also a bit pricier). Even at RG scale, the warning markings are still pretty clear and you can make out each little "word".
I'd like to compare these against DL (Daling) decals in the future but unfortunately I don't have any at the moment.
Comparison with Bandai
I was kinda curious about how these stacked up against Bandai's original decals. Since I was sent some extras (MG Freedom 2.0) I was lucky enough to be able to do a quick comparison:
Left – Close up of the "GUNDAM" decal from Decal Factory's MG Freedom 2.0 decal. Right – Same decal from Bandai's Premium Providence sheet.
This "GUNDAM" decal is still clearly legible on the Decal Factory version but the font is quite a fair bit bolder than Bandai's version. Granted this seems to be a problem in general for 3rd party decals, that they just can't print very thin lettering. On a side note, the "METEOR Hardpoint" decal which is still legible on Bandai's sheet is not so much on Decal Factory's.
Comparison with Samuel Decal
Many of you reading this will probably also be longtime Samuel Decal users. While I don't have any picture comparisons it's important to remember that Samuel Decal is a reseller in addition to producing his own original decals. Unfortunately his original works aren't pre-cut and he also made a cryptic post in the last month stating that he was ceasing his custom decal business. The other decals which he resells are Daling brand or the other 3rd party brand I mentioned which often have some funky spelling mistakes on them.
Application
Now onto actually putting these decals on. As a test subject I built the RG Wing Zero EW to apply these on. At first I was immediately surprised by how fast the decal paper activates after putting them in water. For other decals like Bandai/other 3rd party I usually have to wait at least 15 seconds before the decal can slide off, but I found with Decal Factory decals they'd come off even as fast as 5 seconds or less in water. They are also very thin and fragile, and I botched a few applications before getting the hang of it.
Decal Factory's instructional video
Also can I just say how nice is it to have a somewhat intact decal sheet after you're finished? After using this I can say it's an amazing quality-of-life improvement and I'm not sure how nobody came up with the idea beforehand. No more having to do weird cuts to preserve the structural integrity of a sheet or sift through a pile of scraps to find the decal you need.
Final Product
And here's a quick shot of my hastily completed Wing Zero: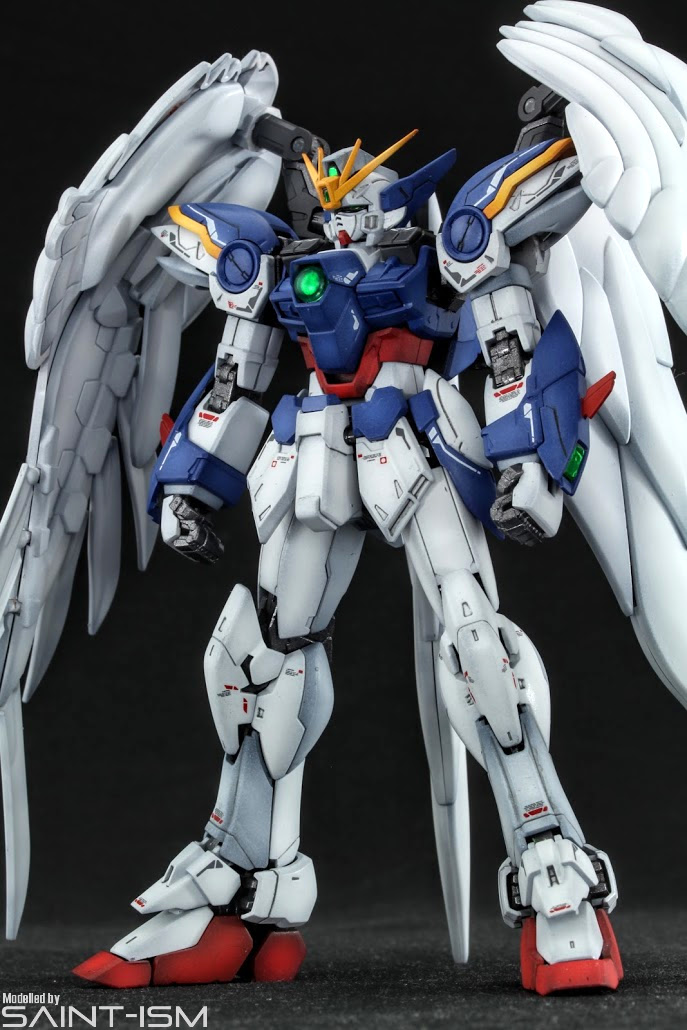 Once they are on though, they look pretty great. Smaller blocks of text are actually still individually printed. Compared to other 3rd party decals I've used for my RG Gundam and Mk2 in the past, these would just be solid blocks. The grey of the decals is also clear and dark enough that it doesn't blend into the white/grey armour parts as it did on my previous RGs.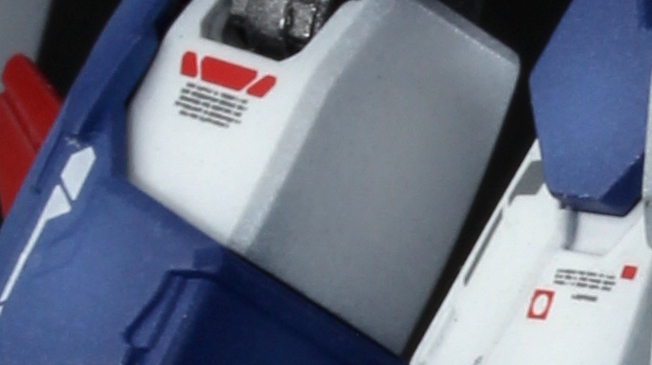 Cropped shot of the RG Wing Zero. At 1/144 scale each "word" is still individual printed.
Final Thoughts
Overall I'm extremely happy with the decals and I think I've found my new decal guy. They're probably the best 3rd party I've used so far, including SamuelDecal's own stuff. The only thing I can't compare it to yet are Daling decals, but I'll try to obtain a sample to do the comparison in the future.
If there are no Bandai alternatives for a kit I'd definitely use these. My only nitpicks are the price, which alot of people may find off-putting. Granted though, if you're like me and can spend up to 36 hours building a single kit, the last thing I'd want to do is put some bad decals on them. At the moment his catalogue doesn't quite cover all kits (say Build Fighters stuff), but I guess that will improve over time.
With that being said, I can fully recommend Decal Factory in confidence and I'll definitely be using more of their work in the future.
Decals are crisp and clear
Decals are well packed for shipping
Double precut for your convenience
Only one option for shipping (EMS)
Expensive compared to other 3rd party
Selection is a bit limited at the moment but growing
Links