The 3rd chapter in the Super Robot Wars Z series has just been officially announced. The game will be released for both PS3 and Vita on April 10th 2013.
Also as with Z2 on PSP, it seems that Z3 will be a two parter.
The series list is as follows: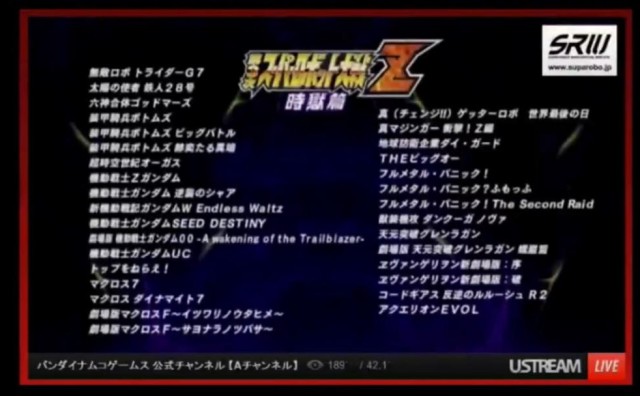 Gundam 00: A wakening of the Trailblazer
Gundam Unicorn
Z Gundam
Char's Counterattack
Gundam W Endless Waltz
Godmars
Trider G7
Tetsujin 28
Gunbuster
Macross 7
Macross 7 Dynamite
Macross F – Wings of Goodbye
Macross F – False Songstress
Daiguard
Getter Robo Armageddon
Rebuild of Evangelion
Shin Mazinger Z
Dancouga Nova
Gurren Lagann
The BIG O
Aquarion EVOL
VOTOMS: Battle Of The Heterogeneous Species
Code Geass
Orguss
Full Metal Panic
The sprites from Z1 and Z2 have been upscaled to HD. As expected there are alot of reused animations, but some units have been lucky enough to have completely new animations for existing attacks. There are also a lot of new cutins.
Gallery
Credits to Guntank of SRW-G for re-streaming the event!